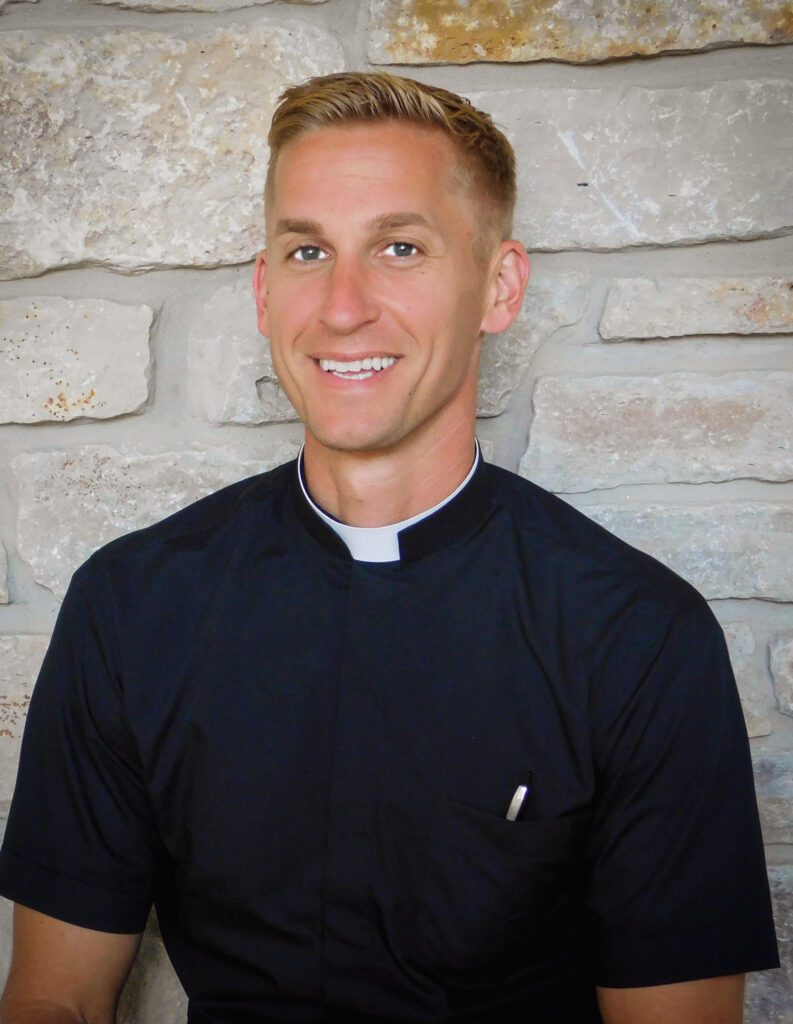 Father Mark Bernhard
Pastor
Where Are You From? "My hometown is Elwood, IL. where I grew up on a hog farm started by my grandpa. I have about 60 cousins on my dad's side who also live near the farm. We have 13,000 hogs, and about 100 pigs are born every day, so there's enough bacon to go around! It was a great blessing to grow up on a farm and develop a hard work ethic, discipline, and a love for God's creation."
Do You Have Any Siblings? "Yes, I have an older brother, a younger sister, and a twin sister. My brother has three children who also live in Elwood, and my twin sister just had her first child (also in Elwood)."
Describe Your Journey to Becoming a Priest. "I grew up in a very Catholic household. My parents would always take my siblings and me to Adoration, and we regularly prayed as a family. Later, my faith was strengthened in college after initially being challenged by my evangelical friends. I learned a lot about my faith by defending it.
"After graduation, I joined the Fellowship of Catholic University Students (FOCUS) as a missionary for two years where I helped college students encounter Jesus Christ and grow as Catholic disciples. It was here that I really grew in my faith and saw how the Lord was working through me to evangelize others. I realized I wanted to do ministry for the rest of my life.
"Over time, the Lord implanted the idea of joining the priesthood into my heart. As much as I tried to shake it and run the other way at first, I realized God was giving me a choice: to get married or join the priesthood. After recognizing this freedom of choice and praying about it, I knew in my heart that I wanted to be a priest."
How Have Your Years of Being a Priest Shaped You? Any Surprises? "I'm a better man since becoming a priest, especially when it comes to sacrifice. Every vocation requires us to "give of ourselves," whether you're married or a priest. Over the past years, I've begun to learn the meaning of those words. I pour my entire self into my vocation, and I feel fully alive, despite all of the difficulties that it brings.
"As a priest, I get to see the tragedy and messiness of humanity every day. I'm able to recognize how this messiness reveals the true beauty of God sending His only son to redeem us by dying on the cross."
You Are Known For Your Love of Sports. How Have Sports Impacted Your Ministry? "Sports teach us to grow in discipline and strive for excellence. It's a real virtue-builder. This translates well to our Catholic faith, where we should always strive to improve our relationship with Christ,
"I've always used the sports analogy to help evangelize others. When working with college students, I would sometimes challenge them to a basketball game. If they won, I would buy them lunch; if I won, they would have to come to my Bible study. Sports helped me build relationships with others because they saw that, even though I'm a priest, I'm also just a regular guy."
What is Your Favorite Sports Team? "The Chicago Cubs. I bleed Cubbie Blue. Overall, though, I like all Chicago teams (except the White Sox!)"
You're Also Active on Facebook, YouTube, and other Social Media Channels. What Role Does That Play in Your Ministry? "Jesus told us to go and make disciples of all nations. Social media is a great, modern tool to spread the Gospel to people, especially during the recent shutdowns."
What is Most Important to You in a Parish? "For me, the most important thing for a parish is how effective it is in fostering encounters with Jesus Christ and actively making disciples. Everything else is secondary. As a priest, that's my main focus–to make disciples."
View All Staff Members