Our Mission:
As a parish, we come together in the Catholic Faith to celebrate God's goodness and presence. Strengthened by Word and Sacrament, we strive to relate the Gospel to our everyday lives, to build unity in spirit and purpose, and to minister to the needs of one another and the larger community.
Get Involved
Stewardship is based on the fact that all that we have and all that we are comes from God. We commit ourselves to stewardship as a way of thanking God for all His blessings; returning to Him a portion of the time, talent, and treasure he has allotted to us. Each week, we choose what will be done with the 168 hours we have available to us. Good stewardship of time means we will share some of that time with God in prayer, praise and thanksgiving, and some time caring for the needs of others.
Every person has a flair for something. Good stewardship of talent means we identify our talents and use them to glorify God and to help other people.
Through the efforts of dedicated parishioners and staff members alike, Notre Dame Parish is able to offer members of its faith community a variety of services and support, as well as the means with which to be of greater service to members in need.
If you are interested in participating in any of our parish ministry activities please contact the parish office at office@notredameparish.org or one of the ministry leaders below.
The Hospitality Committee coordinates various social events for the parish community. Volunteer opportunities include:
Donut Sunday (first Sunday of specific months). Parishioners and friends are invited for coffee, juice and fellowship in O'Keefe after the Sunday morning masses. Help is always appreciated.
Receptions following special events such as clergy anniversaries, etc.
Contact: Sandy & Paul Brugge   (630) 908-7141
The Knights of Columbus is a lay Catholic family fraternal service organization whose membership is open to Catholic men over 18 years old, whose four principles are Charity, Unity, Fraternity and Patriotism.
Knights strive to enhance their spiritual community through volunteering efforts, fundraisers, social events, outreach programs and the feeling that comes with 'Making a Difference.'
At Notre Dame, the Knights hold evening meetings on the second Thursday of every month.  You must attend 1st Degree Exemplification to obtain membership and attend the first meeting.
For more information or if you are interested in joining the Knights of Columbus #15296 Saint Joachim Council, email kofc15296@gmail.com
Choirs
The Children's Choir sings at the 9:30 am mass (first Sunday of the month) from October to June. Membership is open to all 2nd through 8th graders. This group joins the Adult Choir on Thanksgiving Day, Palm Sunday and Easter Sunday. Practices are on Monday evenings, from 6:00 – 7:00 pm in the church. See below for current schedule.
Our Adult Choir is open to all of high school age and older. This group sings at the 9:30 am mass (2nd through 5th Sundays of the month) from Labor Day until the middle of June each year. Special occasions include Midnight Mass, Holy Week services and each year they join with the Children's Choir on Palm Sunday, Easter Sunday and Thanksgiving. Practices are held in church on Mondays from 7 – 9 pm.
Cantors
Cantors are individual singers who provide music leadership at the 7:30, 9:30, and 11:30 am masses. Cantors also serve at all of the holidays throughout the church year. Cantors are selected by audition only. If interested, please contact the Parish Office. 
Instrumentalists
We are always looking to expand our roster of musicians at Notre Dame. If you have instrumental skills, especially on piano and/or organ, we'd like to talk with you and see how you could become part of our Music Ministry. Please contact the Parish Office.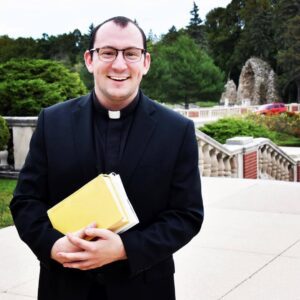 Click the Image Above to Read an Article Written by Fr. Ryan Adorjan
The Notre Dame Men's Club mission is to provide a social, spiritual and service/charitable outlet for members. In doing so, members become more connected to the parish.
Activities include:
Annual golf outing.
Trivia Night for men & women, with costumes, food and great fun!
Service projects, including helping inner city schools with building improvements, Special Olympics events, painting for the Clarendon Hills Park district and helping families in need.
Social events for the club including football outings, golf and anything that involves FUN.
Helping the parish with "Manpower" for Christmas Eve Mass, holiday parking and whatever else needs some "muscle".
All men of the parish are invited to join the Men's Club. To get involved and have a fun experience, contact them at ndmensclub@gmail.com
Parish Auction and Dinner Dance
This annual parish fund-raising event benefits religious education and school programs.  Held in early December, the Auction/Dinner Dance committee looks for donations of goods and services for their silent auctions, and assistance in all phases of planning, publicity and execution of this event. If you would like to assist in any way with this great event, contact the Parish Office.
Catholic Links and Resources
Hallow: Catholic Meditation
Catholic Online: News, Saints, Prayers and more
United States Conference of Catholic Bishops: Resources, news & events
3 Minute Retreat:  Take a short prayer break
www.loyolapress.com/3-minute-retreats-daily-online-prayer
Word on Fire: Bishop Robert Barron's Catholic Ministries
Sacred Space: Your daily prayer online
Pray As You Go:  Daily prayer session
Busted Halo: Faith shared joyfully