We are thrilled to announce that Note Dame Parish has been selected as a pilot program for Hallow's Lenten Challenge. For those who don't know, Hallow is the #1 Catholic prayer app in the world with over 7 million downloads and offers over 5,000 audio-guided prayers on their mobile app. As part of this partnership, we will be journeying through Hallow's Lent Challenge together as a parish, centered around the spiritual classic: The Imitation of Christ.
1. Join Hallow
a) Open https://hallow.com/NotreDameParishIL in your browser (copy and paste the link into a browser, do not open the link in your app) and create your account or login.
b) Go to "Subscription" in the menu, click, purchase subscription, click "Have a promo or gift code?" and enter the code NotreDameParishIL to be granted full access
*Note: Steps 2 and 3 can be completed in the app, however, Step 1 (above) must be completed in a browser.
2. Join Hallow Lenten Challenge
From the home page, scroll down to the "Join the Waitlist" section, from there click the "Join" button by the Lent #Pray40: Imitation of Church prayer challenge.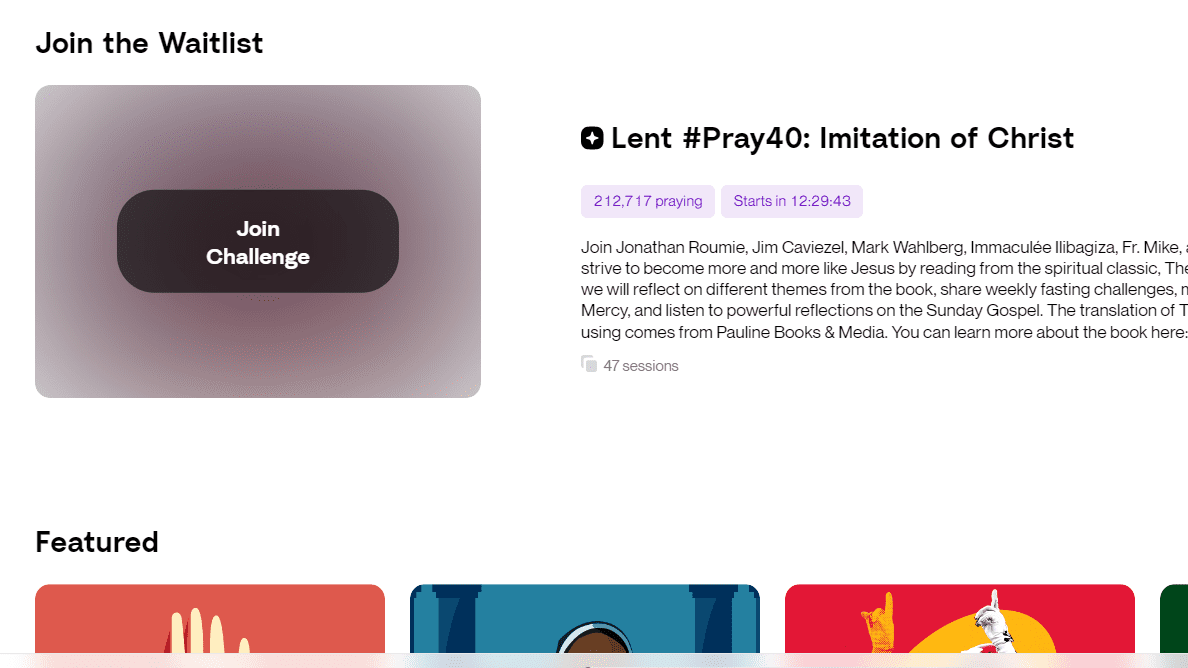 3. Join Notre Dame Reflection and Prayer Groups within the Hallow Lenten Challenge:
Join the Notre Dame in-app Groups.
a. From the Home tab of the Hallow app, simply tap the three-circle icon in the top right corner
b. Tap the + button, then "Join Group"
c. Use the code WPN6EX to join the overall Group and set your preferences
d. Repeat the process and use the code MG3YQK to join the intentions Group
Help Center:
Step-by-step guide on joining your parish groups | Hallow, Inc. Help Center (intercom.help)
How to join and post in your parish Groups
How to Join the Hallow Lent Challenge in the App
How to Redeem Free Access to Hallow